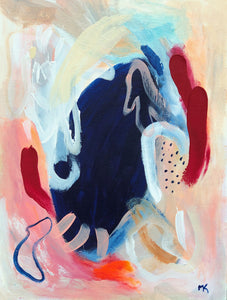 This is an original work of art painted on 9x12 acrylic paper using acrylic paint and various mediums, as part of a series created while in the hospital undergoing a stem cell transplant. 
about the series

Bright colors, pastel hues, and sweeps of thick texture and oozing paint augment organic shapes and movement that dance across the paper and canvas, still abstract at their core but versatile in their shifting natures and mimicry of both the familiar and the foreign. 

Thinking about connection, thinking about love, thinking about how nothing is guaranteed and everything must be allowed to change and transform. Thinking about how to create new patterns.